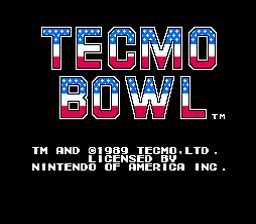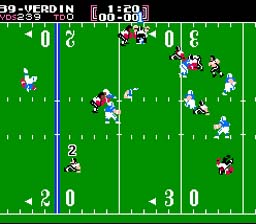 I recently was able to reconnect my Wii to the interweb, after months offline. It was mostly laziness. I didn't want to connect the laptop to the wifi router to write down the codeword. Anyway, Nintendo offers cheap downloads of its old games directly to the Wii hard drive. We got Tecmo Bowl and Super Mario Brothers for $5 each. I forgot how much fun Tecmo Bowl is. I've played a few games now, rediscovering how sweet Walter Payton really was. I am hesitant to be anyone other than Chicago, but I should branch out. I used to do okay with the Vikings, which I used to pick because they were my favorite team. The only bad thing is that the player names are gone. I'm not scoring a touchdown with Willie Gault, I'm scoring with an anonymous wide reciever.
I'm also amazed at how short the levels are on Super Mario. I remember playing it for hours, struggling to get through the levels. But on replaying it, I'm surprised at how quickly I'm able to get through levels. It's funny, too, that I remember exactly where every hidden extra life or hidden tube is, years after last having played it.
I rate discovering the joys of old video games one blistered left thumb.
On a completely different topic, we rented a movie at Blockbuster last night, "Son of Rambow," which was a gently enjoyable little film. But what I'm writing about is the incredible cost of renting movies. Blockbuster is advertising 99-cent rentals, which only applies to the oldest of their collection. To offset these savings, it's now charging a whopping $4.99 to rent a new movie. $5 for a rental! If you buy 4 used movies there, it costs exactly the same as renting 4 movies. I don't see how it hopes to compete with Red Box and Netflix.
Blockbuster gets 4 dollars signs, and little repeat business.